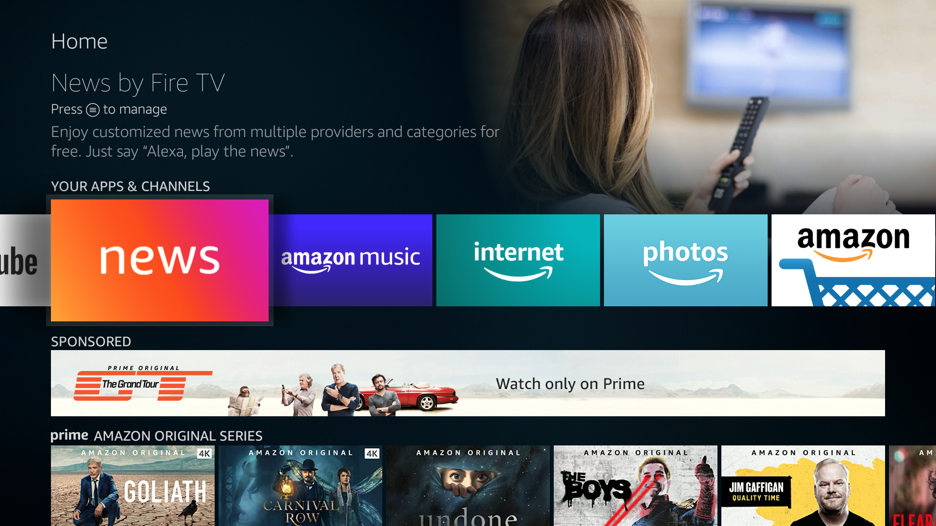 Big tech companies are competing for dominance in the Streaming TV department and Amazon has just expanded a program that makes its Amazon Fire TV product incredibly more appealing: free local news.
The update is built-into the Amazon Fire TV "News App", expanding from national coverage (ABC News Live, CBS News) to local coverage in 88 different markets.
Just say, "Alexa, play local news" to get started, or find the News app icon in the Your Apps and Channels section. It will be automatically downloaded if it's available in your market.
The first time you open the app it will allow you to select your preferred news sources, both national and local, customizing your news playlist based on your selections from then on.
Amazon Local News is now available in the following cities:
Atlanta, GA
Austin, TX
Bakersfield, CA
Baltimore, MD
Beaumont, TX
Billings, MT
Boise, ID
Boston, MA
Buffalo, NY
Butte-Bozeman, MT
Charlotte, NC
Chicago, IL
Cincinnati, OH
Cleveland, OH
College Station, TX
Colorado Springs, CO
Columbia, SC
Columbus, OH
Corpus Christi, TX
Dallas, TX
Davenport, IA
Dayton, OH
Denver, CO
Des Moines, IA
Detroit, MI
Fayetteville, AR
Fresno, CA
Fort Myers, FL
Grand Rapids, MI
Great Falls, MT
Green Bay, WI
Greensboro, NC
Harrisburg, PA
Hartford, CT
Helena, MT
Houston, TX
Huntsville, AL
Indianapolis, IN
Jacksonville, FL
Knoxville, TN
Lafayette, LA
Lansing-Jackson, MI
Las Vegas, NV
Lexington, KY
Little Rock, AR
Los Angeles, CA
Louisville, KY
Macon, GA
Memphis, TN
Miami, FL
Midland, TX
Minneapolis, MN
Missoula, MT
Moosic, PA
Nashville, TN
New Orleans, LA
New York, NY
Norfolk, VA
Omaha, NE
Orlando, FL
Philadelphia, PA
Phoenix, AZ
Pittsburgh, CA
Portland, ME
Portland, OR
Raleigh, NC
Richmond, VA
Sacramento, CA
Salt Lake City, UT
San Angelo, TX
San Antonio, TX
San Diego, CA
San Francisco, CA
Santa Barbara, CA
Seattle, WA
Spokane, WA
St. Louis, MI
Tallahassee, FL
Tampa, FL
Temple, TX
Toledo, OH
Tucson, AZ
Tulsa, OK
Tyler, TX
Waco, TX
Washington, D.C.
West Palm Beach, FL
This is a huge improvement. Previously, the Amazon news app was only available in 12 cities: New York, LA, Philadelphia, Chicago, Dallas, Atlanta, Houston, Miami, Boston, San Francisco, and Seattle.
Unlike traditional news, where you're constantly on alert wondering what segment plays next, Amazon News lets you browse and jump to different stories while you're watching. Just click the down button on the remote and you'll have a selection of stories to jump between.
You can also find live news in the app, under the section labeled "Live". There aren't a ton of live options now, but based on the news today, we'll be seeing a lot in the future. It's worth noting that the Fire TV News App first launched in 2019.
If your city is listed above, you're one step closer to cutting the cord. Is it time to finally cancel your expensive TV service?