When duty calls, and doody calls, will a TV be at your service? More and more people are placing TVs in their bathroom for a variety of reasons:
Watch TV while you shower
Relax with TV from the bath tub
Enjoy TV while grooming and getting ready
Don't miss a minute of a live TV event
Ironically, you'll have two main considerations when buying a bathroom TV, but they're not the #1 and #2 you might expect:
Waterproof TV Options
Where to put your bathroom TV
After that you'll want to buy the best TV for your needs by following the advice in our TV Buying Guide.
Waterproof TVs for Bathrooms
Buyers beware: moisture and humidity can badly damage or completely break your TV if you don't choose a model specifically designed to handle these conditions.
Any bathroom that includes a shower or bathtub will get hot and steamy, with or without romance, whether or not a bathroom fan is running at full blast. The only way to insure your bathroom TV lives a long life is to buy a waterproof TV or add an aftermarket waterproof film.
Unfortunately the big name TV brands like Samsung, Sony, and LG don't offer waterproof TVs, so the best options come from lesser known companies producing specialized models.
Our top choice is the Elecsung 32-inch Smart Mirror TV which doubles as a mirror, runs Android, has an IP66 waterproof rating, and built-in waterproof speakers.
Whichever waterproof TV you choose to buy, make sure you look for the "IP" rating which indicates resistance to moisture, water, fog, and everything else that steamy showers will throw at it.
Best Places to put Bathroom TVs
Before you choose what TV to buy you'll need to decide where you're putting it, and you've got a whole bunch of options, including:
Above the toilet
Above the bathtub
Above the sink (Mirror TV)
On top of a stand
In the shower
In the tub
TV above the Toilet
If you spend a lot of time sitting on the toilet or standing at the toilet, you might want to put a TV above the toilet. Sports fans will especially love this option, allowing them to take a bathroom break while watching the big game without missing a single play.
Non-sports fans might find above-the-toilet TVs ridiculous but it's not the only scenario where it makes sense. Some medical conditions have unfortunate side effects that require people spend more time at the toilet. Having a TV to watch can be a comforting and soothing distraction for otherwise painful and uncomfortable moments.
TV Above the Bathtub
The most picturesque bathroom TV placement is above the bath or soaking tub. You've seen it a million times in movies and needn't close your eyes to imagine the soothing feel of warm, bubbly water with a glass of red wine within arms reach.
Adding a TV in direct sight of your tub creates a luxurious spa experience that will delight bath-lovers. However, the importance of safety cannot be stressed enough: electronics and water don't mix well and positioned directly above the bathtub presents obvious problems.
Your best bet is to mount the TV on a nearby wall beyond the limits of your tub so that if an accident occurs, the TV will fall onto the floor rather than into the tub.
Make sure you buy a TV mount that has tilt capabilities, allowing you to direct the TV downwards so that it can squarely point towards your gaze while enjoying a bath. The best TV mounts are full motion mounts that will allow you to rotate, swivel, pull up, and pull down the TV in addition to tilting it up and down.
If you've got the space to mount a TV above a nearby bathtub wall, make sure you mount it at the right height.
The best way to measure the proper mounting height is to sit in the bathtub as you would when taking a bath, look comfortably towards the wall where the TV will be placed, and mark that spot on the wall. The center of your TV should be mounted slightly above this point for optimal relaxation.
TV Above the Sink
You might think that a mirror belongs over the bathroom sink and thus putting a TV there would be pure craziness; but what if the mirror was also a TV?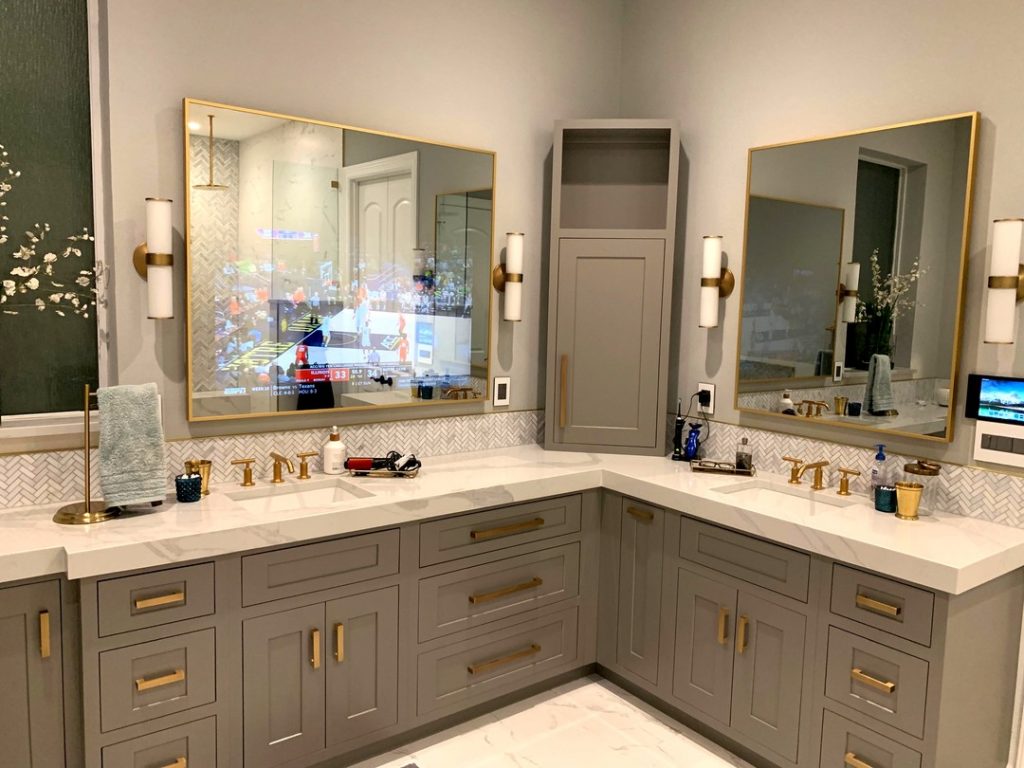 Mirror TVs are gadgets you can mount above your sink that act like ordinary mirrors when turned off and as a fully functioning TVs when turned on. Even when activated, Mirror TVs maintain their reflective properties, more dimly displaying the screen so that you can multi-task in bathroom glory.
When buying a mirror TV you should worry less about the TV size and more about the mirror size. Match the mirror to your living space and everything else will fall into place. You'll usually be so close to the screen that size won't matter, especially if you chose from a trusted Mirror TV provider like FrameMyTV.
TV on (or in) a Cabinet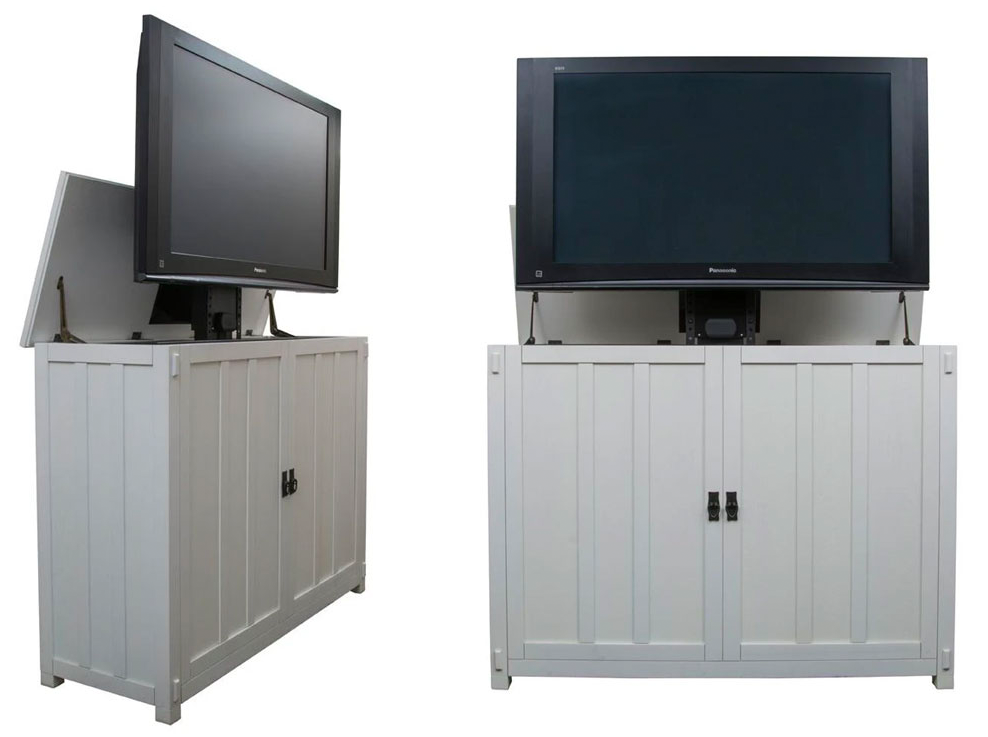 If you've got enough space, consider the versatile option of putting a TV stand or TV cabinet in your bathroom.
TV Cabinets are standalone pieces of furniture on which you can place a TV Stand that turns, swivels, and tilts in all directions. Better yet, an all-in-one electronic TV Cabinet that houses your TV and lifts it from the cabinet at the push of a button.
TV in the Shower
The idea of putting a TV in the shower sounds both delightful and dangerous. It's a wonderful option to watch TV while you're getting so fresh and so clean, but even Outkast would wonder whether it's safe.
You can safely mount a TV on the shower wall with a professional installation of a waterproof TV that hides the electronics behind the shower wall. One such example is the Ocea Touchscreen Bathroom TV produced by Evervue.
Portable Bathroom TV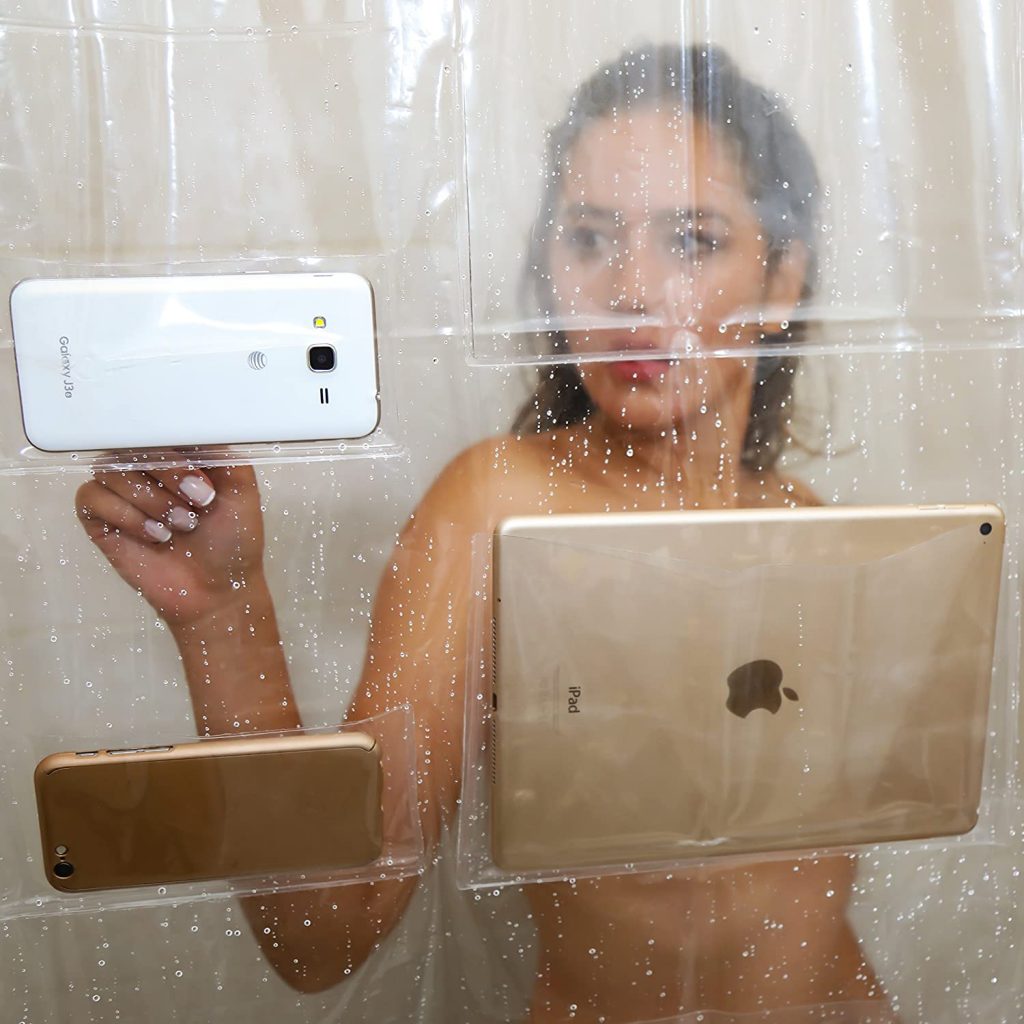 If you're the kind of person who likes to watch TV here, there, and everywhere, you may want a portable bathroom TV that you can move and reposition from the counter, to the shower, into the bedroom, and back again. In that case, you may not want a TV at all.
The best solution for a portable bathroom TV is likely a personal device you already own: a tablet. Many of these devices are already compact, portable, and waterproof, and when coupled with the proper stand or mount, make perfect bathroom companions.
Some tablets, like the Amazon Fire HD and the Samsung Galaxy Tab Active3, are already waterproof, making them great devices for bathroom use. Tablet accessories can make other devices waterproof or bathroom ready.
Bathroom accessories for tablets include:
If you don't necessarily want a bathroom TV in your shower or tub, you may consider buying a laptop or smart display that's optimized for hands-free countertop use.
The best laptop for use in the bathroom will be an all-in-one convertible laptop like the Lenovo Yoga, which can bend completely backwards and sit on top of your bathroom counter like a tent.
Then you've got smart displays like the Google Nest Hub, Amazon Alexa Show, and Facebook Portal, which are specifically intended to accept voice commands. The ability to speak to the device is incredibly helpful when your hands are wet or you're engaged in other activities, such as doing your makeup, shaving your face, or combing your hair.
Bathroom TV Ideas
It doesn't end there: if you want to create an entertainment experience in the bathroom, you're limited only by your own imagination. Here are some bathroom TV ideas that we hope will inspire you.
Are you an interior designer, architect, or media installation company who wants to showcase your work? Share your best ideas and photos with us for inclusion and credit on this page!