The decision to put a TV in the bedroom is very personal. Some people want a TV in every bedroom, while others insist a TV should never go in a bedroom. Those in between will scrutinize the TV placement, careful not to disrupt the bedroom ambiance.
We'll walk you through the decision, explain the options of where in the bedroom to put your TV, and finally talk about the best size and viewing angle for bedroom TVs.
Should you put a TV in the bedroom?
Putting a TV in the bedroom can be great for adults with self-discipline, offering morning news before work, late night entertainment before bed, help going to sleep, and the perfect environment for a lazy weekend morning.
For others, that lazy weekend morning will turn into a full blown lazy weekend, unable to resist the eternal "next episode" of a Netflix marathon. And don't forget: studies have shown screen time before bed can disrupt healthy habits and can be especially bad for young kids.
There's no doubt that TVs in bedrooms have massive appeal- that's why they're among the most desirable amenities in vacation rentals. But at your house, where you need to balance work, relaxation, and play, this is a decision you shouldn't take lightly.
If your budget is limited so are your options- you'll need to use creativity and a keen eye to balance the room. If your budget is slightly larger you can entertain the option of completely hiding your TV through high-tech installations.
If you've read this far your mind is probably made up: you're putting a TV in the bedroom (and we're going to help you pick the best one). It's important to note that picking the best bedroom TV is more about finding the right location than selecting the right model.
Where to place a Bedroom TV
The dilemma of where to put your TV in the bedroom is tough; you've probably pondered the question for hours already. It's a tough decision in any room but an especially tough task in the bedroom, where the options seem endless:
TV on Dresser, Desk, or Nightstand
TV mounted in the corner
TV mounted on the wall
TV on the ceiling
TV at foot of the bed
TV under the bed
TV in the bed
How do you sleep: stomach, back, or side?
Where you place your TV in the bedroom may partially depend on how you sleep at night:
If you sleep on your side, you may prefer a TV mounted in the corner or sitting atop a dresser, desk, or nightstand.
If you sleep on your back, put your TV at the foot of the bed or consider a ceiling TV.
If you sleep on your stomach, you'll probably prefer a TV mounted on the wall but should also consider using a personal TV in the bed.
The most popular position for people to sleep is on their side (54%), followed by their back (37.5%), and stomach (12.3%), but the human body loves variety and people shift positions an average of 1.6 times per hour throughout the night (National Library of Medicine).
Although your furniture may dictate your TV position more readily than your sleep position, consider adjusting your furniture to match the manner in which you tend to sleep.
Dresser, desk, or nightstand
The absolute easiest and most affordable bedroom TV solution is placing your TV on a flat surface that you've already got: a dresser, desk, or nightstand.
You'll probably want to upgrade the TV Stand that comes packaged at purchase in favor of a model that tilts, rotates, raises, and lowers to create the optimal viewing angle for your bed, desk, ottoman, and other viewing locations in your bedroom.
It's important to make sure your furniture can withstand the weight of your TV and you should Consider installing anchoring straps (plastic, metal, or nylon) to prevent tipping (especially if you have kids).
Wall Mounted Bedroom TV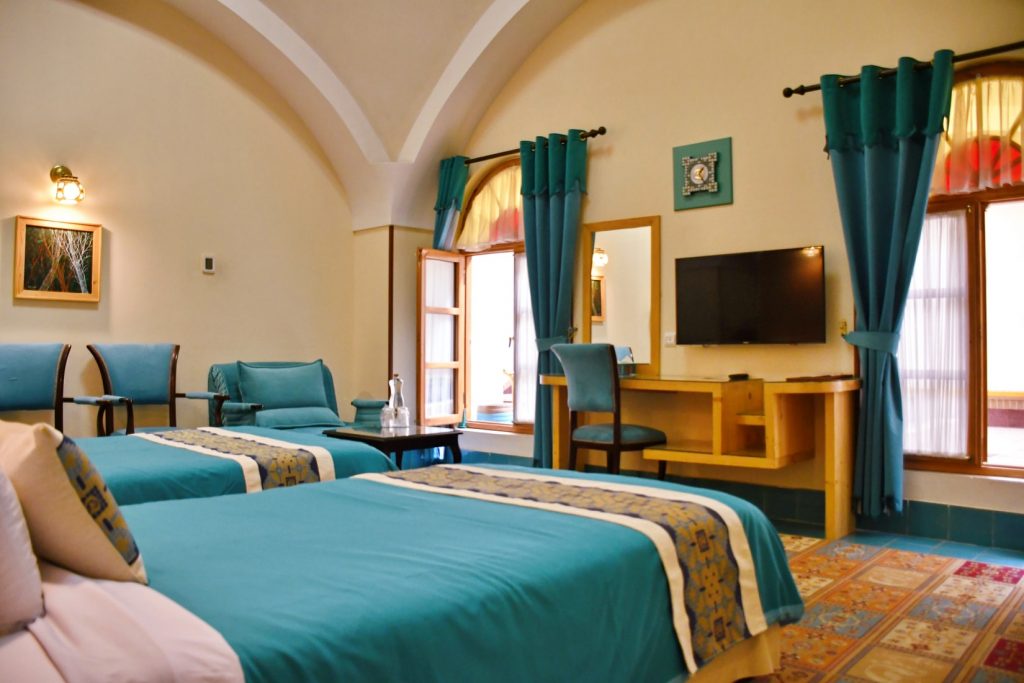 It would be painfully obvious if we were to omit the traditional wall-mounted TV from our list. It's the most obvious solution, most popular solution, incredibly affordable, and gets the job done. This tried-and-true category should be considered your go-to backup plan just after setting your TV on a countertop.
Corner Mounted Bedroom TV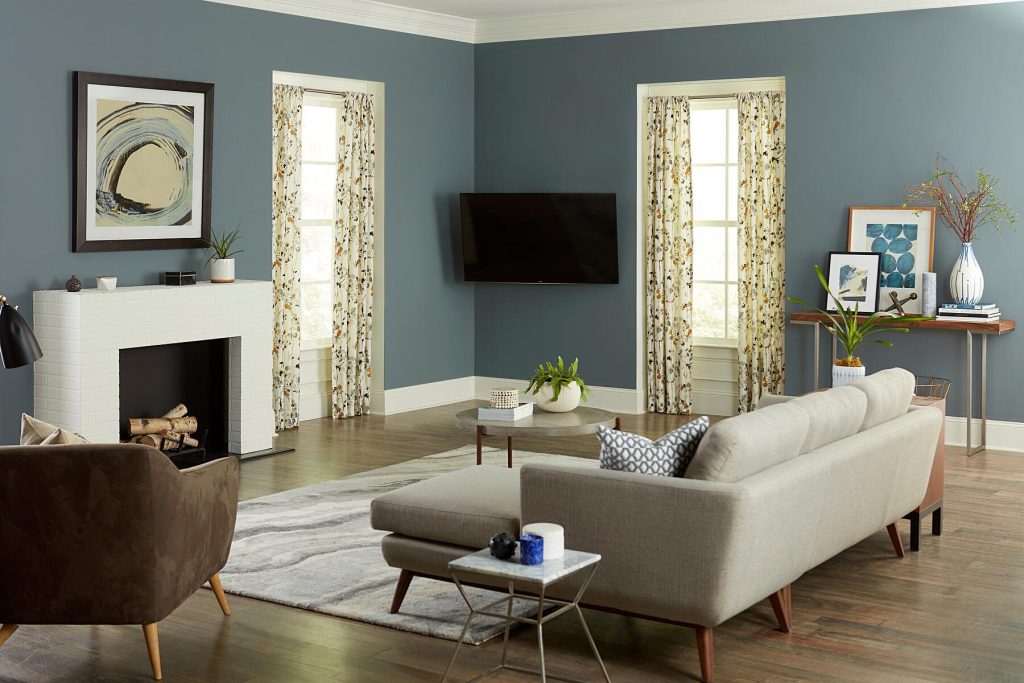 The best way to save space in a small bedroom is to mount your TV in the corner of the room. This makes use of under-utilized space, and when combined with a full-motion corner mount, the TV becomes perfectly viewable from every spot in the room.
These corner TV mounts can be especially helpful in bedrooms with more than one window, giving your TV a place to hide from the sun and thus prevent glare (window treatments work well, too!).
Ceiling TVs for the Bedroom
Nearly every person shopping for a bedroom TV – especially those with small bedrooms – have a eureka moment: I'm in a bed, looking up, why not save room and put a TV on the ceiling?! It's not a bad idea, but it's an expensive and potentially dangerous one.
If you decide to mount a TV on the ceiling, have it installed by a professional. Whereas a faulty wall-mounted TV might crash to the ground and break, a poorly mounted ceiling TV might crash on your head and break your face (among other things).
There are three types of ceiling TV mounts:
TV Mount where the TV folds down
TV Mount that lowers from above ceiling
TV Mount that hangs from ceiling by a pole
Ceiling TV that Folds Down
Flip Down TV Mounts are the most popular method of mounting bedroom TVs on the ceiling due to their combination of convenience and affordability. They allow the TV to rest nearly flat against the ceiling, electronically folding down with a remote control.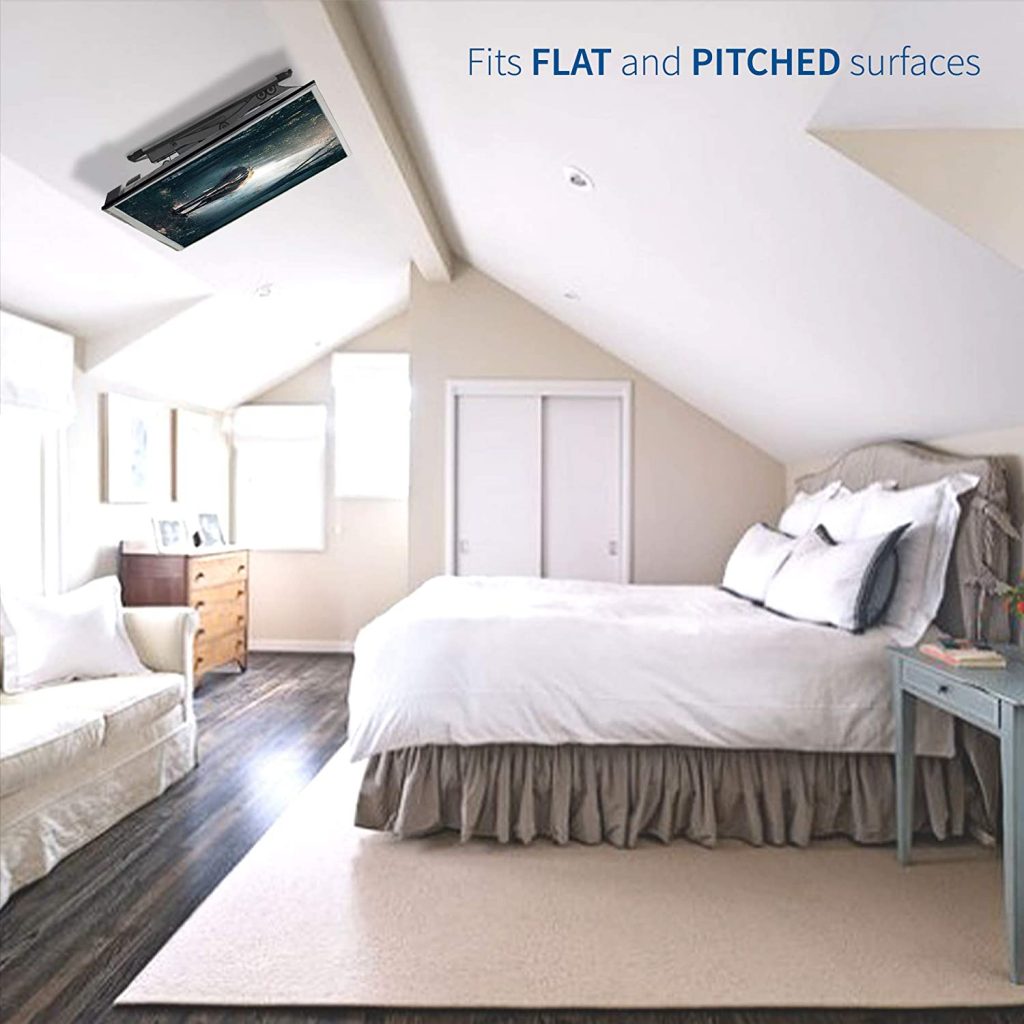 Many of these flip down mounts, like the MOUNT-E-FD55 pictured above, work on both flat and pitched ceilings. At the press of a button the TV will fold outward to your desired angle, creating the perfect viewing angle for head-on viewing.
Ceiling TV that Lowers Down
Retractable TV mounts can be used to electronically lower a television that's stored at the top of (or above) the ceiling.
Retractable Pole Mounts
The most affordable retractable mounts aren't as visually appealing, but provide great versatility, with a full range of motion that lowers, tilts, and swivels, allowing you to position the TV for multiple locations in the room (bed, chair, ottoman, desk, etc).
Hidden Retractable Mounts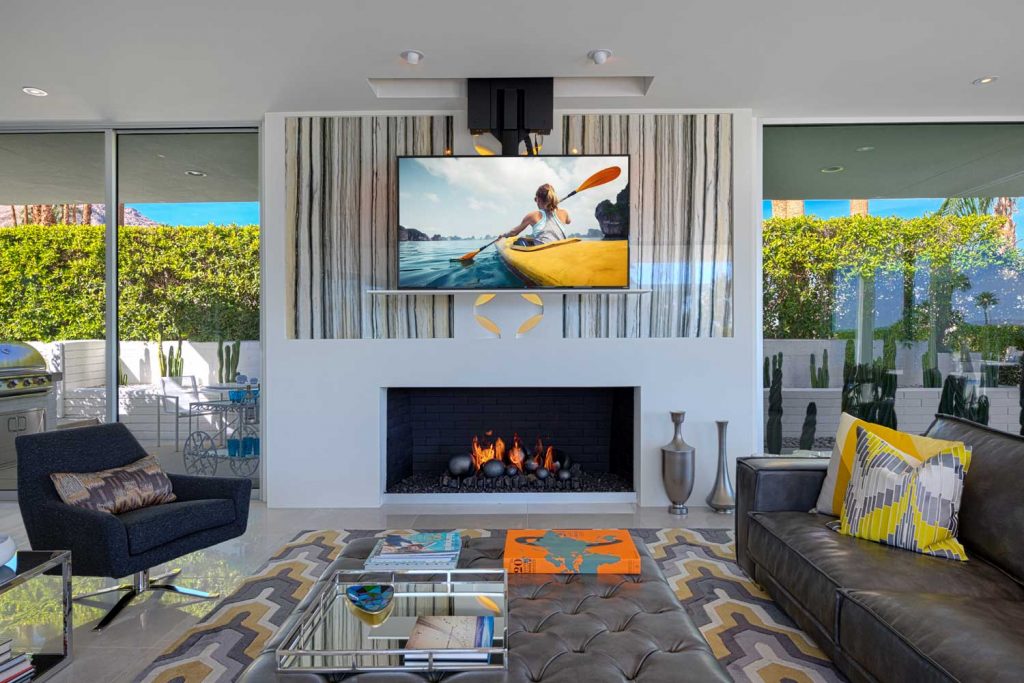 The most elegant option for a ceiling TV allows you to completely hide the TV in the space above the ceiling, electronically lowering down at the press of a button. These TVs are much more expensive than the alternatives but also much more impressive.
If you value the serenity of your room without the TV but want the option of watching TV on command, you'll want to use this type of mount.
Foot of the Bed TVs
Placing a bedroom TV at the foot of the bed makes perfect logical sense: it's the closest location from a natural position of sitting or laying in bed. The difficulty comes with how to place it there.
The most obvious option is to place the TV atop a dresser, desk, or another piece of furniture that sits just beyond the foot of the bed. But what if it's a huge room and the furniture is annoyingly far away? What if it's a small bedroom and you don't want to block the walkway? What if that space is occupied by something else, like a painting or mirror?
There are three additional "foot of the bed" TV options worth exploring:
TV in the foot of the bed
TV that pops up in Ottoman
TV that lifts from cabinet at foot of the bed
TV under the bed
TV in the foot of the bed
You'll have to buy a custom system to install a TV inside the foot of your bed, but the results are stunning. Take for example the PL TV Lift by FutureAutomation (shown above). It seamlessly stows your TV into your bed frame, popping up on command whenever you're ready to watch.
TV that lifts from cabinet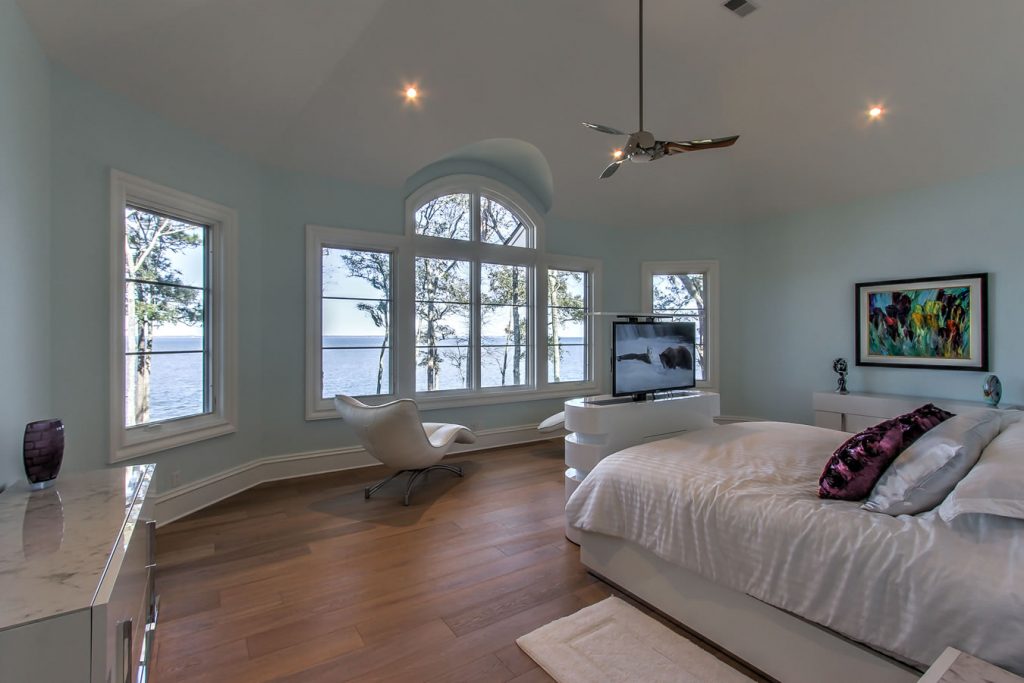 You might not typically find a cabinet at the foot of a bed, but when built to resemble a footboard, it makes a lot of sense. Not only do you get the benefit of visually framing the bed furniture and potentially adding some storage space, you also create space to house a TV that lifts up from the cabinet.
End of the bed TV lift cabinets come in a wide variety of shapes, sizes, colors, and finishes: make sure you measure and match the cabinet to the style of your bed for maximum effect.
TV in Ottoman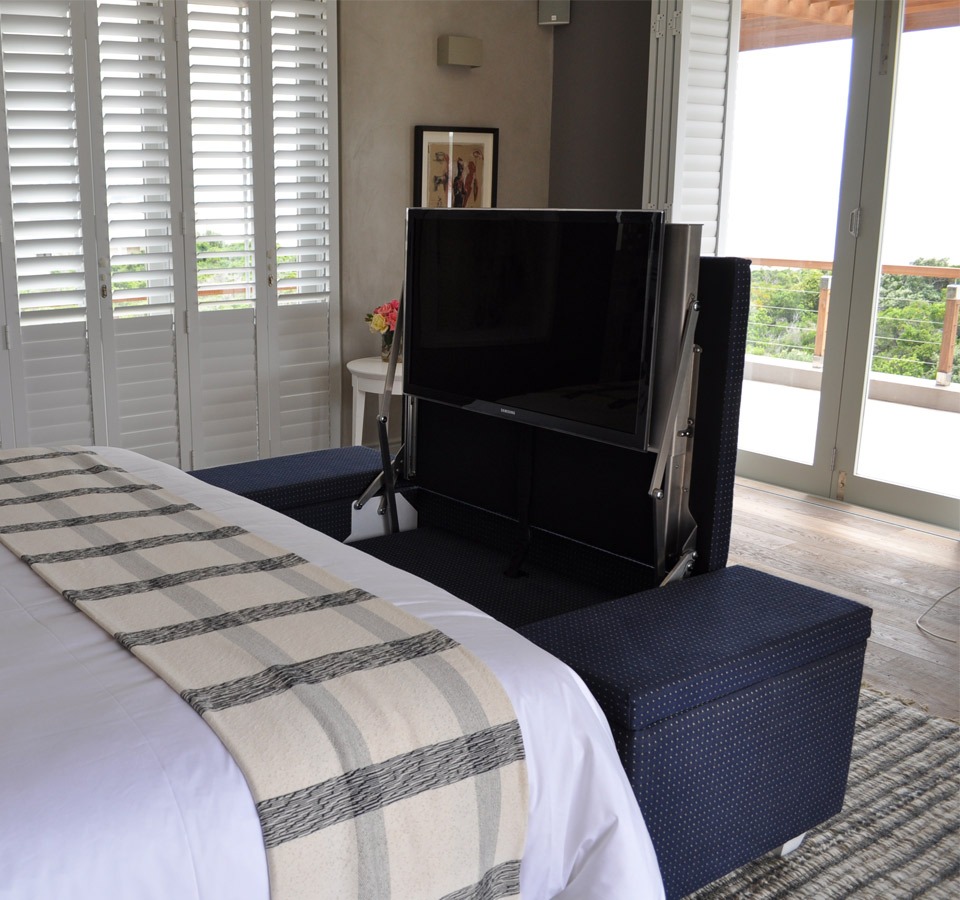 Many people enjoy having an ottoman at the foot of their bed. It's not only a nice place to sit while getting dressed in the morning or undressed before bed, but it's also the perfect spot for hiding a popup TV.
TV under the bed
The most impressive way to make space for a bedroom TV without compromising your room's style is with an Under The Bed TV. These high-tech motorized units store the TV parallel to the ground, and at the press of a button they slide out, tilt forward, and lift up into viewing position.
They're undoubtedly cool and they certainly save space for those not using the area under their bed for storage already. However, we don't recommend under the bed TV lifts for a few key reasons:
The TV will collect dust under the bed
They require extra space at the foot of the bed
They're expensive: upwards of $10k
They're technologically complex, which means more things can go wrong which are expensive to fix.
Bedroom TV Size
To calculate the best TV size for the bedroom, measure the distance between your pillow and the TV location and divide by 1.8. This measurement results in a TV that's slightly smaller than the recommended living room TV, accounting for the bedroom's priorities.
For example, Queen and King size beds are both 80-inches long, so if you place a TV at the foot of your bed the viewing distance will be about 90-inches away. Dividing 90 by 1.8 yields 50-inches, so the best size for a TV at the foot of a Queen or King bed is a 50-inch TV.
If you want a bigger TV for a theater-like experience in the bedroom that's perfectly fine. In fact, we'll be envious, especially if you're able to hide the TV, avoiding concerns about the room's balance. Bigger is typically better… to a point. Make sure you understand the dangers of choosing too big or too small in our Guide to Calculating the Best TV Size.
Bedroom TV Height
When laying in bed, your eye-level is angled upwards, so you'll want to mount or position your TV higher than other rooms. Purchase some extra plump pillows to prop up your back and head up, limiting the severity of the viewing angle. Or better yet, buy an adjustable bed that inclines and reclines on command.
To calculate the best bedroom TV mounting height, lay or sit in your bed, gaze comfortably at the selected screen location, and mark that spot on the wall. The center of your TV should be positioned just above this mark for the most comfortable viewing experience.
If you'll be watching TV from multiple spots in the room or want the flexibility to switch from sitting to laying down or maybe even a nearby desk, make sure you buy a full motion TV mount that can adjust to these various angles.